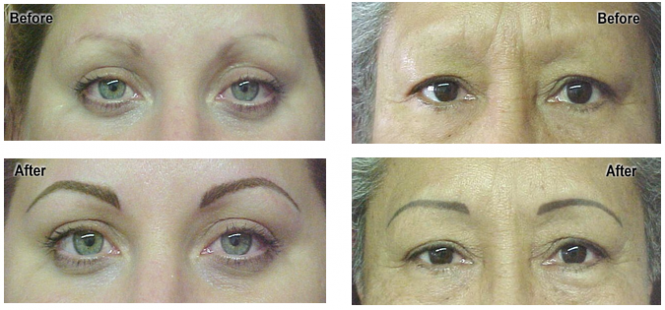 by Sophia Kremer
•
June 10, 2014
I was always against eyebrow tattoos because I believe that a great eyebrow shape can be attained naturally through patience, proper grooming, and upkeep. And also because so many permanent makeup (cosmetic tattoo) companies are not experts in achieving the most appropriate eyebrow shape for their clients.
For example…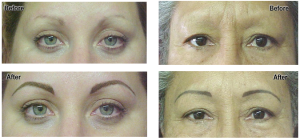 Companies advertise eyebrow tattoos as a solution for people who have no hair growth in the eyebrow region.
I can sympathize with those clients and see why this offer is attractive…
Regardless of how long the tattoo lasts, the most important thing is achieving the correct shape for your unique face and enhance your unique beauty.
Most permanent makeup professionals do not know how to achieve the correct shape. Just like you see in the image above, clients do not end up looking so much better in the AFTER than BEFORE.
I have seen over hundreds of clients who come to me to correct their permanent makeup eyebrow shape. I have usually succeeded in doing this with the use of eyebrow pencils that have a similar color to the client's hair. This often requires a lot of education and explanation and upkeep for the clients.
To help my clients I have studied and got certified as a permanent makeup professional.
I will now use my skills to improve the appearance of my client's eyebrow tattoos to achieve the best shape possible for them.