by Sophia Kremer
•
May 15, 2012
Below, please find a video previewing Varvara doing what she does best – shaping eyebrows to perfection.
The model in this video is a long time client of Varvara's, thus her eyebrows are not so bad to begin with. Here is a before picture: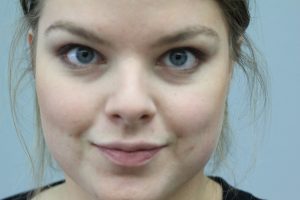 Varvara uses French Lavender wax to excavate into the brows and draw out a beautiful shape that is symmetrical and scientifically appropriate for the face of the client. With swift, easy motions, the excess hair is gone – but not too much of it. There has to be a balance and fullness to the brows. It is dangerous to take too much hair off for fear of thin, brows.
Once the waxing is over, Varvara plucks remaining hairs to perfect the shape. Then, she applies a tint to the brows in order to make the girl's blue eyes become more noticeable.
Here is the final product: