by Sophia Kremer
•
June 1, 2012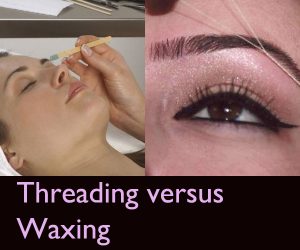 There has been an unofficial debate about what is "better," eyebrow shaping through waxing or through threading. The answer is not that simple because the arguments for each side are numerous. Ultimately, there are drawbacks and benefits to each, however, waxing eyebrows proves to be a more sustainable and safe solution in the long run.
Many eyebrow threaders are unlicensed. First, it is difficult to find a location that incorporates threading into the cosmetology license tests because threading is an emerging beauty solution. Second, cosmetology licenses can run from as much as $5,000 to $12,000, making a large dent in the bank account of the person looking to get certified. For these reasons, MANY threaders practice sans license.
Over the past two years, the state-run boards of cosmetology in Texas and Arizona have been issuing cease and desist letters to eyebrow threaders who practice without a cosmetology license. "People practicing threading should be required to have a cosmetology license for the safety of the public," notes Susan Stanford, public information officer for the Texas Department of Licensing and Regulation, who says that poor sanitation, such as reusing threads on multiple customers, can spread staph infections and other contagious skin conditions. In Arizona, inspectors claim to have observed facial bleeding as a result of people's skin getting pinched by the threads.
Don't let this scare you because each beauty location is different, and most threading places pull out a brand new thread in front of costumers to assure them that it's clean. But its not only threading that gets a bad rap, but eyebrow waxing as well because people worry about double dipping and the hot wax burning the skin. Like threading, you have to read reviews of waxing professionals who know what wax to use and how to work with clients who have sensitive skin.
People think of threading as a less painful alternative to eyebrow waxing – and that myth has to be confronted as well. This woman claims that she had irritation from threading, even an hour after her threading appointment. Click here to read about her experience. She writes:
The thread also broke several times, something that I've never witnessed before, which is fair enough, but when it broke the second time she accidentally slapped me in the face.
The bottom line is, you have to know who is doing your eyebrows, whether they are being threaded or waxed. Your eyebrows are not a joke. They directly control the structure of your face and can make or break your beautiful face. Waxing is the safer alternative because, according to statistics, there are more people with cosmetology licenses that wax eyebrows than people who thread. Even if you do not know a person, it is a safer bet to take a chance on someone with a license rather than someone who doesn't have one. Did your threader learn from a professional or from a youtube tutorial? But remember to check online for reviews about your waxer or threader before going to your first appointment. Good luck!
Sources:
http://healthland.time.com/2011/08/02/does-eyebrow-threading-carry-health-risks/
http://glitterandgloss.blogspot.com/2011/03/dont-ever-get-your-eyebrows-threaded-at.html
http://www.huffingtonpost.com/2011/08/03/eyebrow-threading-health-risks_n_917239.html